Custom Area Rugs
Area rugs are more than an accessory in your home they also help to define key spaces within your rooms. Area rugs protect your hardwood, tile, and luxury vinyl investments from every day wear. Area rugs come in all different shapes, color, textures, and sizes. Area rugs allow you to get creative with decorating and can bring dimension into an otherwise dull space. With the many beautiful accessories available we can help you make your home beautiful. During your visit at Accent Carpet One Floor & Home, take a look at our other flooring options as well, which an area rug could complement well. We have locations in Tracy, Manteca, and Lodi.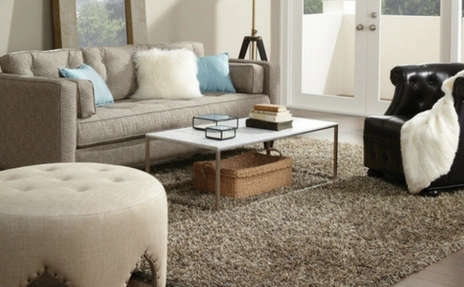 How to Choose an Area Rug
When it comes to choosing an area rug, we offer some guidelines for homeowners to follow. Since much of the selection process is based on your own personal taste and sense of style, we simply offer some general guidelines:
Room size rugs should leave a border of 6" to 24" on all sides.
Dining room rugs should measure at least 4' longer and wider than the dining room table,
so chairs will not fall off the rug when pushed back from the table.
Hallway rugs should be approximately 4" to 6" narrower and 6" to 24" shorter than the hallway.
Other area rugs will vary in size according to need.
Best Places for Area Rugs
There are really no limitations to where area rugs can be placed around your home. Since area rugs offer protection of other flooring, places than in areas with a lot of foot traffic or places with a lot of furniture are ideal. Commonly area rugs are used in hallways to collect any dirt being tracked inside. Area rugs can also be placed in living rooms and help define spaces among your rooms, and this is especially effective in homes with open concept flooring.